The Stone Arch Bridge is the only bridge of its kind over the Mississippi River. It is made of native granite and limestone, and measures 2100-feet long by 28-feet wide. The bridge consists of 23 arches, and spans the river below St. Anthony Falls in Minneapolis, MN.
Stone Arch Bridge Art for Sale
Below is original art for sale that depicts the Stone Arch Bridge.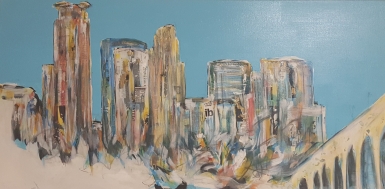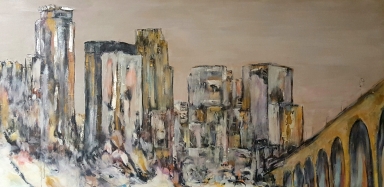 Stone Arch - Fritzcity
Mixed Media on Canvas
72" x 36"
By Bradley Fritz
Stone Arch - Fritzcity
Mixed Media on Canvas
48" x 24"
By Bradley Fritz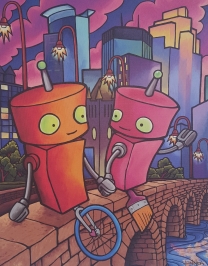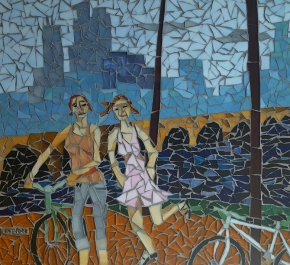 Two Explorers - Mosaic Glass
Broken & Cut Glass & Grout on Wood
19" x 18"
By Tree Croyle Johnson
Twilight on the Stone Arch - Inside The Robot
Digital Media
16" x 24"
By Linnea Maas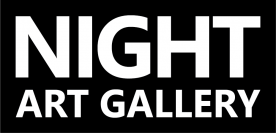 For Art Inquiry & Pricing

(651) 419-1945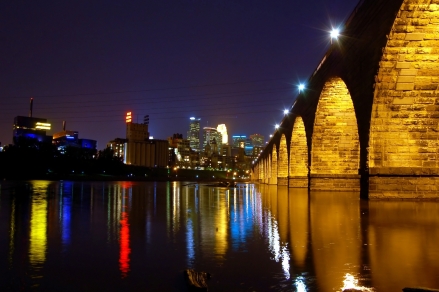 Listed below are events and things to do on and around the Stone Arch Bridge:
Segway Tours are given out of St. Anthony Main near The Aster.




Stone Arch Bridge Festival takes place in June and offers over 250 Musicians and artists




St. Anthony Lock and Dam can be seen from the Stone Arch Bridge and allow boats to pass around the Falls of St. Anthony.




Mill City Museum is a great place to learn about the area history.
History of the Stone Arch Bridge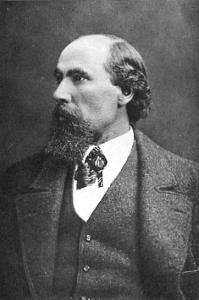 Built by railroad baron James J. Hill in 1883, the bridge allowed for increased movement of people and goods across the river. It served as a working railroad bridge until 1965 but is still seen as a symbol of the railroad age.
Rehabilitation of this National Historic Engineering Landmark began in 1980. Traffic on the bridge is now characterized by a much slower pace. Mostly used by walkers and bicyclists, the bridge is one of the best ways to enjoy the view of St. Anthony Falls.
Above is a video about the stone arch bridge. Credit to Ray Lowry for making this video.
One of the most recognizable architectural landmarks of Minneapolis is the Stone Arch Bridge. Built by Railroad Baron James J. Hill back in 1883, the Stone Arch Bridge is the only bridge of its kind spanning the Mississippi River.
Built of 100,000 tons of granite and limestone, this 2,100 foot long structure, composed of twenty-three gracefully curving arches, helped usher the railroad age into the city of Minneapolis. In its heyday, forty-eight passenger trains crossed the Stone Arch Bridge each and every day bringing thousands of travelers into and out of the central business district of Minneapolis. But as air travel replaced passenger train travel, the bridge went into decline. By 1980 it had become little more than a fenced off, derelict structure surrounded by crumbling, abandoned flour mills.
In 1994 a partnership of public agencies rehabilitated the bridge for pedestrian use. Today the Stone Arch Bridge is the jewel of the brilliantly redeveloped Minneapolis Riverfront. Thanks primarily to the Minneapolis Park Board, our grandchildren, as well as our grandchildren's' grandchildren, will one day be able to stroll across the Mississippi River on James J. Hill's monument to the railroad age.
– Ray Lowry
Kemteck Inc.
13732 Lake Blvd
PO Box 211
Lindstrom, MN 55045
Copyright © 2018 Kemteck Inc. www.Kemteck.com